Caros Colegas
É com prazer que anunciamos o 2º Festival Internacional de Desenhos de Pacientes com Imunodeficiência Primária.
Vejam as informações abaixo, divulguem e participem.
Dear colleague,
I'm pleased to inform you that we are planning to organize the 2nd International Festival of Pediatric Patients' Paintings (IFPPP) in October, 2016, in Budapest, Hungary. We cordially invite all children and adolescents (<18 years old), who were admitted in a hospital during their life, to submit their paintings (drawings) to this festival.
Meantime we would like to support this festival by distributing the enclosed announcement to all individuals who are in touch with you and might have interest to participate in this unique event. It is kind of you to encourage pediatric patients to submit their artworks. The first festival was amazing, where 928 paintings from 26 countries were submitted; and we hope to receive more than a thousand paintings this year!
Top 200 selected artworks would be published in the booklet of the festival.
It is kind of you to:
Actively invite sick children in your country to submit their artworks before the deadline (July 31st) to have the chance of be a winner!
Invite your friends and colleagues to help in announcing this festival in the children's hospitals.
Share with us selfie short movies, preferably with a background of an attraction from your region telling two phrases of "2nd International Festival of Pediatric Patients' Paintings" and "Help the Health with Art, To Give a Smile to a Beating HEART" in English and in your local language. Junior persons from your region might help in this regard. The movies should be emailed to ifppp2heart@gmail.com
Let us acknowledge your name, as one of collaborators who helped us in organizing this festival!
I'm eagerly looking forward to hearing from you soon.
Best regards,
Nima Rezaei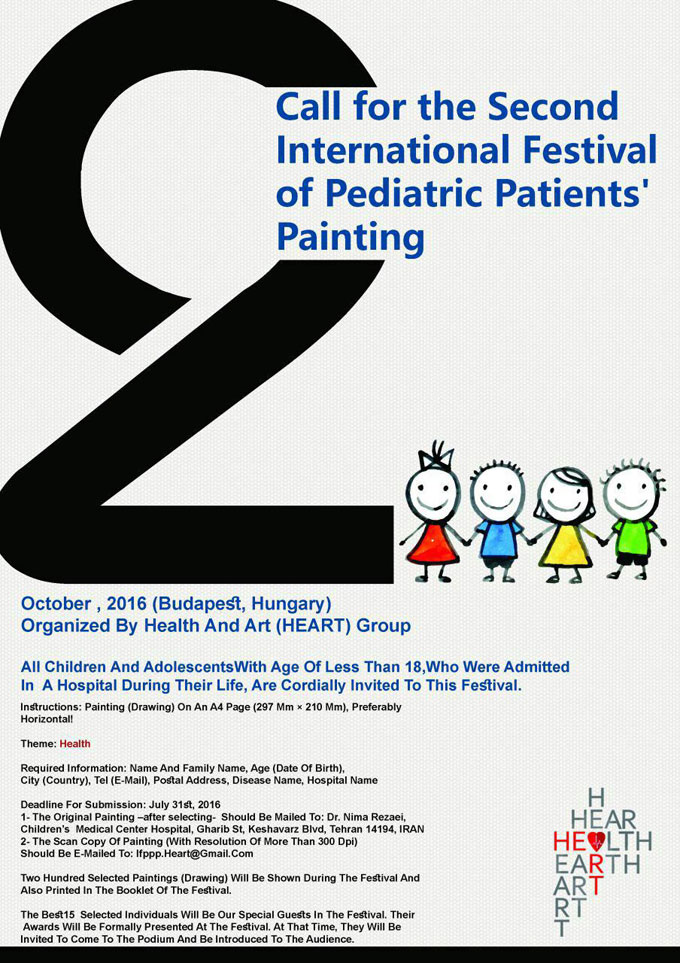 Atenciosamente
Grupo Brasileiro de Imunodeficiência


Aproveite também para participar do facebook do BRAGID onde podemos compartilhar informações de forma dinâmica.